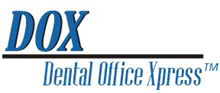 Building upon our staff's experience of working closely with family, pediatric and orthodontic dental practices, the features of the DOX system address the daily patient processing needs of practices who see multiple family members. Since we primarily work with dentists who frequently see children, you will find that DOX includes information that other systems do not — parents' names and patients' ages print on reports and on-line lists, family information is integrated in nearly every feature, and photos are used for easy staff recognition and award printing.
"Love at first sight!"


Carolyn Winans
Dr. Henry Maccarro
Williston Park

DOX will integrate with clinical software packages, including x-rays and intra-oral imaging. In addition, electronic insurance filing, electronic statements and digital appointment confirmation are available in the DOX system.


Designed by a Team of Experienced Professionals
---
The development team of DOX has more than 40 years of experience providing customer service, training and software development for dental practices. This core team were employees of DataTracTM, a company that designed practice management software and provided customer support for dental offices for more than 18 years. Our experience includes:
Hundreds of hours in dental practices, evaluating the needs of staff members and training each to use management software to improve efficiency and productivity for the practice.


Thousands of phone calls, listening to staff members' questions, and providing exceptional service for dental software and hardware problems.


Hundreds of ideas heard and observed while supporting, training, holding users' meetings and visiting with dentists at dental meetings.


We have observed and listened to your wants and needs.

DOX is the solution to meet the needs of family-focused practices.
---
Most dental practices see more than one family member. Recognizing this important characteristic of your practice, DOX is specifically designed to provide extensive family information, as well as minimize the keystrokes necessary to perform tasks for multiple family members.
Treatment Planning - Each time you view a patient treatment plan, the scheduled appointments and unscheduled treatment of all other family members also display.
Scheduling - You can quickly and easily schedule multiple family members at one time, eliminating the need to remember where the previous family member was scheduled.
Rescheduling and Canceling - With just a few keystrokes you can reschedule or cancel multiple family members, entering the same reason for all appointments.
Confirmation Lists - When confirming appointments, the system alerts you that other family members are on the list and allows you to confirm all family members with one phone call.
Recall and Reminder Cards - One card can be sent to multiple family members.
Insurance Entry - When assigning insurance coverage, you can view other family members and add insurance coverage to them, too.


Patient Information at Your Fingertips
---
T

he majority of offices using DOX are pediatric/orthodontic practices. Having worked closely with this group for more than twelve years, we have designed a program that includes the detailed information your practice needs. Our system displays age (shown in years and months up to age 16), both parents' names, up to ten phone numbers, both patient and ortho balances, patient pictures, sibling information, recall and ortho intervals, and much more. This extensive detail allows your staff to be more personable when interacting with patients and parents, keep track of other family members, and at the same time be more efficient when processing a patient.

Appointment Book Designed for High Volume Practices
---
Using the "condensed" chair view, your staff can view up to 30 chairs in the appointment book at one time. When squeezing in an appointment or determining where to schedule that more difficult patient, you can double click the chair and "zoom in" to see more appointment detail, as shown for Chair 1 on 4/16 on this screen.
Voice-Activated Charting
---
KSB Dental is partnering with Dental Health Technologies to offer DOX Structured Chart©, a complete voice-activated charting system that not only handles a mixed dentition, but also allows the practice to default the initial charting screen to the primary dentition.
The charting of exams are structured to match your methodology and philosophy of care. This comprehensive exam technology has been built from the ground up to be operated hands free across the entire chart spectrum. The Structured Chart system has proven that its voice technology can be used by any team, doctor or hygienist to achieve stunning results in the operatory.

Process Patients from One Screen
---
The most popular feature of DOX is Today's Patient List (TPL) which shows all patients scheduled for today. From this screen, your staff can charge today's work, enter payments, view the treatment plans of all family members, schedule multiple family members, view insurance coverage, change note information, view x-rays or digital images, and much more.


Complete Practice Management Software for Family-Focused Practices
---
Multiple work spaces allow the user to work on multiple tasks at one time.

Family features for efficient data entry.

Patient information at your fingertips.

From one screen, ability to view and perform multiple functions with minimal keystrokes.

View up to 30 chairs in appointment book on one screen.

Easy-to-read statements include pay-ment, adjustment and account notes.

Extensive and reliable reporting system that easily handles practices with multiple producers, as well as multiple locations.

Patient picture system that takes and stores patients' photos, helping staff to easily recognize patients and delighting younger patients when printed on awards and letters

Powerful word-processing package that is fully integrated.

Reminder system that enhances communication among staff.

Electronic statements that save you money and increase cash flow.

Electronic insurance filing for quicker insurance payments.

Integrates with digital voice confirmation.

Bridges to digital x-ray and imaging packages, including Dolphin, Gendex, PlanMeca, ScanX, ViperSoft, VistaDent and more.

Voice-activated charting that handles a mixed dentition.